Breathless I Observe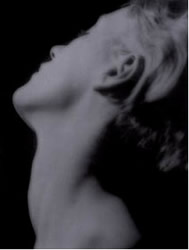 Nicole Brossard - "Le Cou de Lee Miller" (with intro 3'31"; w/o intro here, 2'21"; transcript of audia here). The eye having once been ravished (it was a June day in Paris), the "I" enjoys, repeatedly, a reverie, a joyful displacement or distraction, a moment of breathlessness in which to "last a long time with no memory." Brossard pays homage to the way desire returns by distributing, lightly, and with a laugh of satisfaction (no pining can be heard here), certain regularities across the seven seven-line poems that make up this brief series. The first line will almost always evoke time ("each time," "often," "now"; only the fifth poem breaks the pattern), the fourth will repeat exactly "while one translates" ("et pendant qu'on la traduit"), the penultimate must name the erotic object, with or without further qualification (of the subject's state upon seeing or remembering it, of the object's state, arrested by Man Ray's lens). The sequence culminates with the incantation of that name, that phrase, the syntax slightly varied for the pleasure another enunciation affords, the French, suppressed by not inaudible here in the author's own translation, jubilantly returning in the emphatic "cou" that precedes a "merci" to the audience and the release of laughter and applause.
More from Brossard's Segue reading of 5 May 2001 at PennSound. Brossard author page at EPC. Marcella Durand's interview with Brossard for Double Change 2. Announcement of Brossard's most recent award, the Canada Council for the Arts Molson Prize. • Lipstick xml feed. Tracklist to date.